Hello Forge users, and a warm and happy holidays to everyone celebrating Mabrouk El Eid, Bonne St-Jean Baptiste day, Canada Day, and the 4th of July! We've had an eventful few months since our last developer update. We've been making a lot of improvements behind the scenes since then, and we hope you guys are looking forward to hearing about it.
If you'd like to watch back on the developer update livestream, you'll be able to catch it here. Otherwise, read on!
Hello/Goodbyes
We'd like to wish a fond farewell to Kevin. He's been with The Forge the longest out of anyone on our team, and has contributed countless amounts of art, videos, and UI design to The Forge- the new Bazaar UI design was largely created by him! We hope that he finds success in his future roles.
We'd also like to welcome Dererk, our newest sysadmin, as well as Vabs, our newest developer. Dererk has been helping us improve general stability on our platform, and otherwise working on all the fun sysadmin/devops tasks we've required for our service. Meanwhile, Vabs has just started this week, and is already submitting code to fix small issues on our website. We think the future is bright with these two new stars to our Forge team, and we hope our users can give them a warm welcome.
Job Posting
We are hiring again! We are still looking to expand our development team. We are looking for:
An experienced developer who...
enjoys working remotely and...
is currently eligible to work in Canada (for legal and administrative reasons).
If you're a developer eager to work with The Forge and meet these qualifications, feel free to apply here.
Bazaar Filters
Five months of effort. 300 commits. Countless planning and dev hours. After spending so much time preparing this user interface, adding all the necessary improvements, and developing it in general, we are proud to announce the release of our new Bazaar filters feature!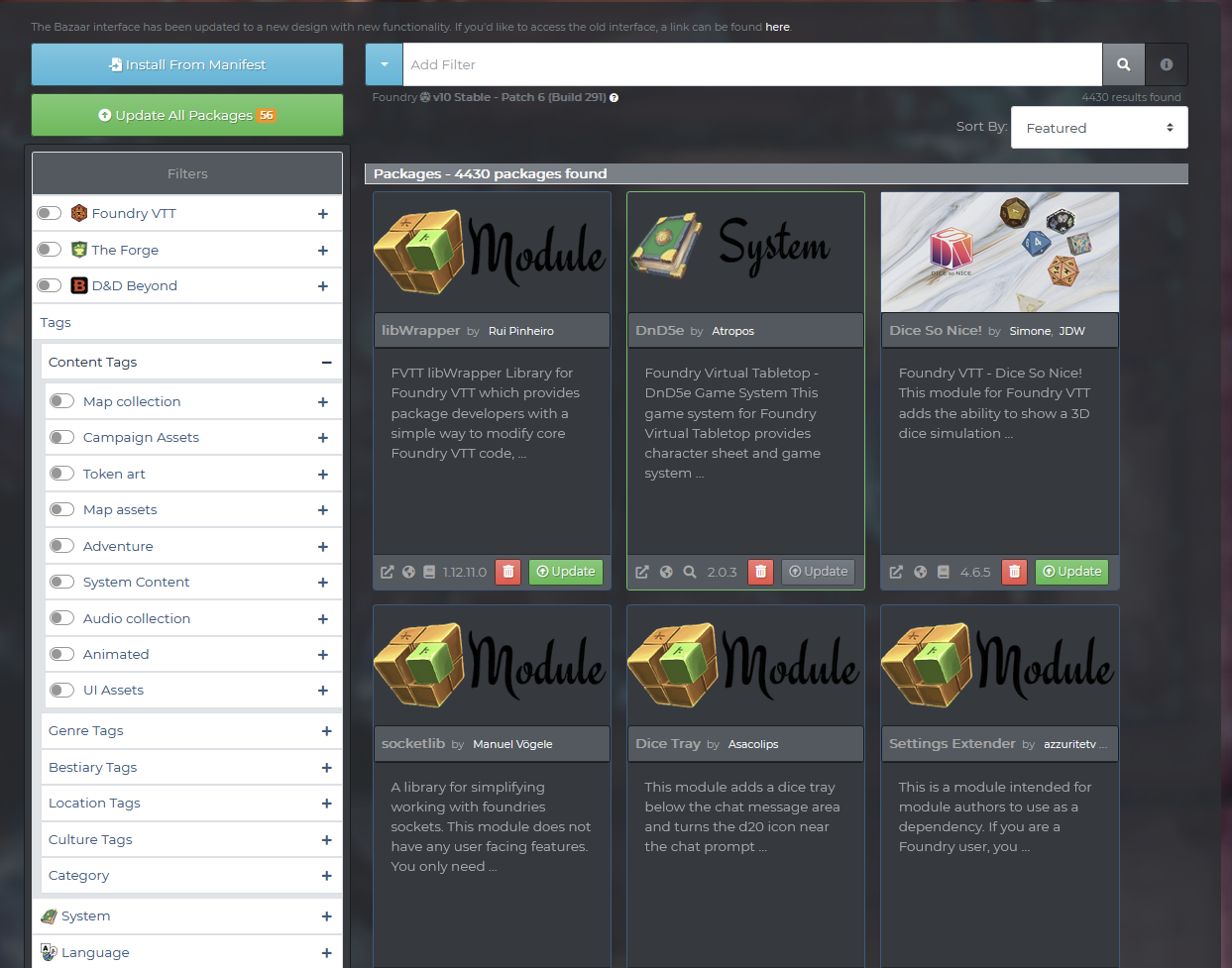 Hand-in-hand with our Bazaar tags, we now allow users to filter packages to find exactly what they're looking for. Want to look for adventures? We offer a filter option. Want to look for maps, but only winter maps? We offer filters for that as well.
We have aimed to make it as intuitive and simple for our users as possible. There's a lot going on in the background to make this work- but you don't have to worry about any of that! Simply select what you're looking for, and begin browsing for your newest adventure content.
Kapa
Users with a keen eye may have noticed the newest chatbot on our website, or the dedicated channel on our Discord. This is Kapa.ai, a chatbot trained off of our forums! If you find yourself with a quick question that needs answered, or need help with a topic in general that you don't want to spend time waiting for someone to answer, Kapa.ai can likely answer those questions for you.
We've already seen our users are getting a lot of use out of this chat bot- we're glad you all enjoy it, and hope it can continue to help troubleshoot your problems.
Taxation in Australia and Norway
We mentioned this in our last livestream, but just one last reminder- we are now collecting VAT/the local equivalent in Australia and Norway. If your Forge invoice looks a little higher than normal, that would be why!
We sincerely hope this will not be an issue for users in those jurisdictions. If you have any questions about your billing or invoice, you can view the details under your account page on The Forge.
Assets Library
Do you share your assets library with other users on The Forge? Or do you manage a table with multiple GMs? Then this might be the update for you.
We have made a number of improvements to our assets library! First and foremost, we now allow sharing specific parts/folders of your asset library with other users. You no longer have to give access to your entire assets library if you want another user to have the ability to upload content, or browse through it. This can be very useful if you want to share a specific folder with your players, without them accidentally (or on purpose) stumbling onto your campaign prep. It can also be helpful if you take turns at your table GMing, and the other GMs require a subscriber's amount of storage.
With this update comes a number of other improvements as well. We've improved the API key management screen, added the ability to easily send links for sharing the API key, and added the ability to name your API keys for your own organizational needs. All of this will be coming later this week, or early next week. We hope you guys will enjoy it!
Version 11
We know that Forge users are chomping at the bit for version 11. We're excited to get it recommended-ready at The Forge as well. However, there's a lot of technical challenges that we didn't anticipate in getting it working. We did a lot of work before it was released to get it ready, and we will be recommending it to our users soon. We thank everyone for their patience!
Bazaar Showcase
We showcased the following packages during the developer update:
Conclusion
And that's it! You can follow us below at the following social media links: