— Celebrate this release with us, by using the coupon code at the end of this post
With a breath of relief, we have finally released our Save Points feature. A long awaited feature for World Builder users, those eligible can now access the automatic backups our service makes, as well as the backups they create to restore worlds from previous versions.
Even if a world is destroyed, whether by module conflict, version update, or even accidental deletion, World Builder users can save their hard-earned work from destruction.
But users with a keen memory may remember that this feature has been promised from the early days of The Forge. Users with an even keener memory may remember us showcasing this feature at the end of last year, only for no visible progress to show for many months. What held this feature up? Why did it take us so long to finish it? What's been happening behind the scenes and how does it work?
History
Before Foundry VTT was even released publicly for the first time, I've always been keeping a backup of my games, a copy before and after each session, because I often needed to go back in time to see when something changed, or recover the state of a scene before my players started opening doors and drawing doodles all over the map.
When I launched The Forge, one of the most advanced features I wanted is the ability to automatically provide that functionality of automatically saving your games after each session. I had named the feature "The Time Machine" and suggested it as one of our World Builder features.
The original plan was to use git as a way of tracking changes in a world, but that quickly turned out to be unfeasible. We've then explorer various options, implementing our own system for a while before hitting all sorts of technical challenges before we found the perfect solution that checked all the boxes and suited our needs perfectly.
We still had many many months of work to do in order to transform that technological ability into a usable feature for our users. It had to be flawless and user-friendly, simplifying the process without sacrificing any of the capabilities. We got started on the backend until we got it working the way we wanted. Our original solution took hours to process a restore and required an enormous amount of free space in a dedicated storage to manipulate the backups, so it turned out to be unusable, but with the new solution, it only took a few seconds to process a restore request.
While the Save Points feature was late to become fully available to our users, we began offering world restoration services for users at the World Builder tier. As we viewed it, our World Builder users had purchased their subscriptions with the promise of eventual automatic backups to restore from, and we wanted to honor this promise to the best of our abilities, so we did all the work manually when a user would request it. It still took us almost an hour every time to actually do it, because we hadn't yet finished building the tools for it, but that time slowly improved as we built more of those tools and it helped us learn what we needed.
Then we designed, redesigned, wrote, then rewrote the UI until we came up with a user experience that we are very proud of, which makes it very easy for users to get exactly what they want, and recover their worlds in case of disaster or autosave/manual save specific games and restore them quickly.
The feature's name was changed from "Time Machine" into "Save Points" because we thought it would be a cooler name and more in line with our gaming addiction (and also to avoid any possible trademark conflicts).
And today, the Save Points feature is finally released! 🥳🎊🎉
So how is it?
In our non-humble opinion, pretty amazing! You can create Save Points, have them automatically created for you, revert your world, clone a world from a past date, or even retrieve a world you deleted by mistake. We even provide the users the ability to access backups of their worlds from our company-wide disaster-recovery backups, so you can always restore your worlds from recent automatic daily backups, even if you hadn't enabled the feature beforehand. These automatic backups can serve as a vital method of retrieving worlds where no other saves are available.
Users can also manually save a world, creating a specific save point for that world. This can be more flexible and interesting than might be expected. For instance, users can utilize these save points to save a world before their players explore it, and can then restore the world to that point once they're done- or even better, clone the world from that save point!
Another handy use case for the manual saves would be when you're cleaning up a world. If a Foundry VTT world gets too big, it can be hard for you and your players to load into the game. When this occurs, one of the most common ways of freeing up space is deleting extra entities, such as items or actors that are no longer needed. By making a manual save, you can keep a copy of the world before deleting/moving these entities to compendiums, just in case you accidentally delete something important and need to get it back!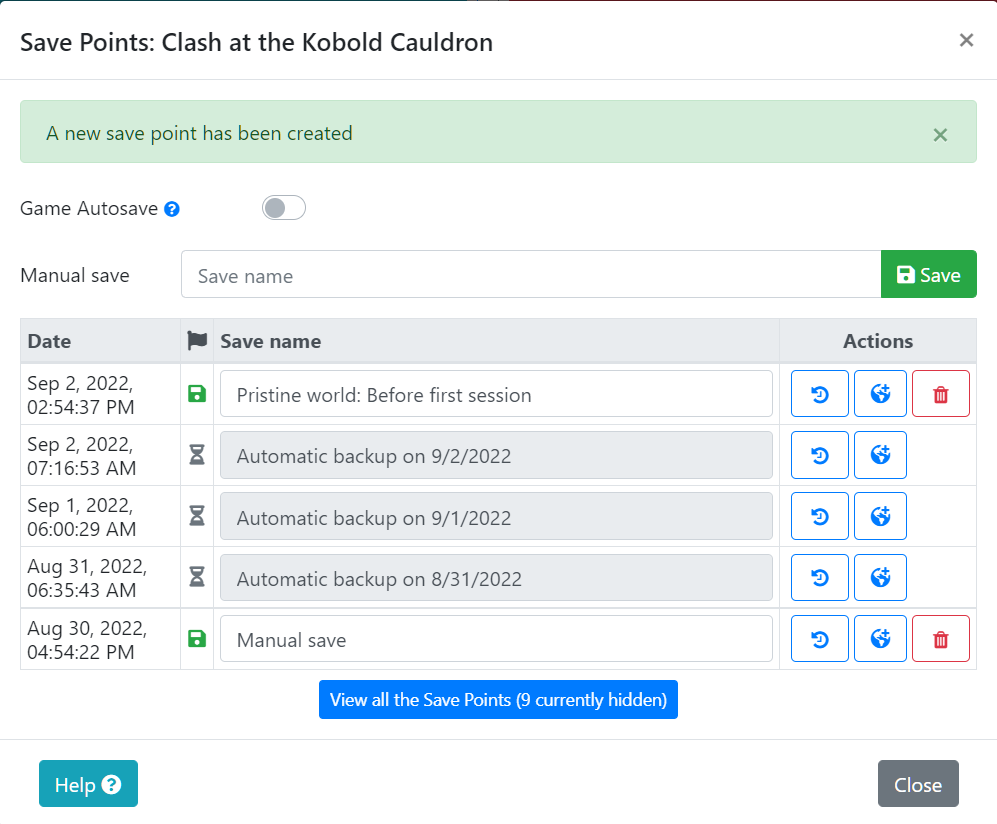 But one of the coolest features of our Save Points is autosaving. When enabled (it must be toggled on for each specific game where you want it), we'll automatically create a save point for that world whenever:
You upgrade to a new major version of Foundry VTT
Whenever your world is idled for long enough/stopped
And right before a world is restored to a previous save point!
And we'll save your last 200 autosaves for that world, ensuring that you'll always have a viable backup to return to for that world!
For many users, manually backing up their worlds by downloading them will remain good enough, and we always encourage users to do that. But we love the Save Points feature for how turn-key it makes such a vital process. Besides, if you make a mistake and do not have a backup readily available to you, we've got your back! Backing up your worlds is always important, and we've now introduced functionality that makes this process a breeze.

Check out our documentation for the feature which explains all the things you can do with it.
Saving in progress...
The Save Points feature is exclusive to our World Builder tier, so all of our World Builder subscribers will have access to it. Simply click on the Save Points game tool from your game configuration page or the Save Points page from the navigation bar and explore the interface.
If you are not a World Builder subscriber, or you've been hesitating, then maybe it's time to upgrade! You can still explore the interface though, which can be useful for confirming that your deleted world is recoverable before upgrading.
To celebrate this long-awaited release, we've created a coupon code, which gives 10% off the World Builder subscription for the next year! If you use it on our yearly subscription, that's a total of 20% off!
Go to the Subscription Manager and select the World Builder tier, use the coupon code SAVEPOINTS10 at checkout and enjoy! But don't wait too long, this coupon will expire at the end of the day, Sunday September 11th 2022.
You can read here for how to use coupon codes on our site, and if you're already on the World Builder tier, don't worry, we've got your back, you can also take advantage of the coupon by simply resetting your billing cycle.